"The Story of the Kingdoms of the Moon and of the Sun" : an artistic dialogue signed Pierre Hermé x Nicolas Buffe
Since the beginning of 2016, Pierre Hermé has given free reign to an exceptional artist,Nicolas Buffe, to imagine a universe combining ancestral myths, manga culture,Renaissance and Baroque art. At the heart of this exclusive universe – two heroes: Hélios and Roxane, who come from the Kingdoms of the Sun and of the Moon, surrounded by many remarkable characters, such as Lily and her little black cat or Athanor 3 the guardian-robot.
For Christmas, continue to follow the story as it unfolds in Pierre Hermé Paris collection.
Discover this exclusive artistic dialogue now and take part in the Pierre Hermé x Nicolas Buffe interactive adventure on www.pierrehermenicolasbuffe.com
Music by "Behind the Shadow Drops"
---
The artist
Born in 1978, he was part of a generation
influenced by Japanese culture, developing
from childhood a passion for anime,
tokusatsu, Japanese manga, and video
games. His studies enriched his references
with classical works of the Middle Ages
and the Renaissance, such as the
Roman de la Rose or Poliphilo's Strife
f Love in a Dream. This fusion of narrative
and visual influences is characteristic
of his work, which is mostly based
on drawing and on the humanist idea
of Serio Ludere or playing seriously.
MORE DETAILS: www.nicolasbuffe.com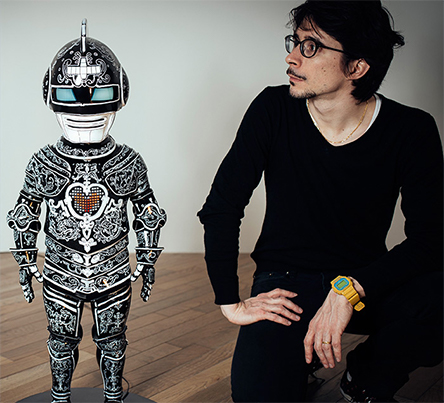 Nicolas Buffe - Photo credit: Nicolas Datiche
---
VALENTINE'S DAY 2017

Cupidon
The newest addition to the formidable artistic collaboration between the Maison Pierre Hermé Paris and the artist Nicolas Buffe, Cupidon takes his place naturally on the Maison's Valentine's Day macaron gift box. What more tender allusion than this « RobOneiric » figure who lives between the world of reality and that of sweet dreams, keeper of the universal key for opening hearts in all dreams of love. But only under one condition: that those who use it are truly in love. A pretty tale to give to one's beloved.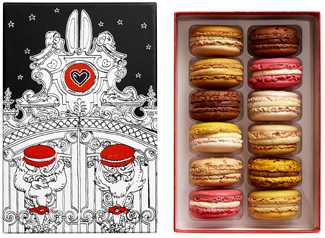 Portail des Fairground Gardens
The Gates to the Fairground Gardens open onto a "before", a memory, an
elsewhere. Onto that time when they were never shut. That bygone era in which
the Fairground Gardens twinkled every night with the lustre of their festivities,
when the subjects of the Kingdoms lived in peace and went there to have fun. To
go through those gates then was to enter a world of fairy tale magic, of lights
and music. Crowned by a huge heart of faded splendour, richly ornate, and
proudly sporting iron railings forged by the Kingdom's most imaginative
craftsmen, the Gates have now been engulfed by Nature and remain, alas,
permanently closed. Yet it wouldn't take much, would it, for them to regain their
former glory and open once again? Peace between the sovereigns. The love of a
princess and the desire of a prince. Sun and moon reunited.
DISCOVER THE "PORTAIL" GIFT BOX
---