DELiVERY BY COURRiER
Pierre Hermé Paris® products may be delivered throughout Paris and the Paris Region.
This service is available 7/7 (except the days on which our boutiques are closed). You may select a delivery date and hour on any day.
The deliveries will be made by refrigerated truck and delivered in a shopping bag. Products available for delivery by courrier are indicated by this symbol

DEADLINES FOR ORDERS
We invite you to order on line before 6.00 pm, the day before your selected delivery day.
NEW - SAME DAY DELIVERY
Subject to availability of our products, you can place your order online between 10:00 am and 3:00 pm, and have it delivered on the same day.
Products available on the same day are indicated with this statement :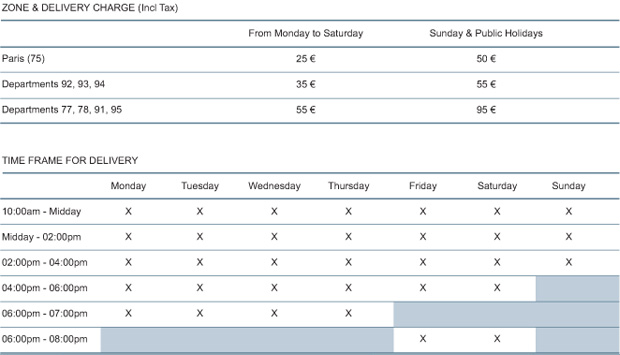 For the moment, the price of a delivery to Paris is 10€.
IMPORTANT: During busy periods such as Christmas, Valentines Day, Mother's Day, etc., our delivery by courrier may experience delays. This may also be the case during severe weather conditions or other times when transport and traffic conditions are affected.
TO SEND A GIFT
The invoice is never included in the package. It will be available from My account.
The delivery is handed to the recipient in exchange for a signature. A space for specifying a personalized message is found on the order page of the site. Your message will be printed on Pierre Hermé Paris® letterhead, placed in an envelope, and included in with your gift order.
IMPORTANT - IF RECIPIENT IS ABSENT
In order to enable the most efficient delivery service possible for your order, it is important to provide complete information relating to the delivery address including, but not limited to: door code, building number, floor, and doorman information.
Pierre Hermé Paris® will not be held responsible for merchandise that is not received due to an incorrect or incomplete address or due to the absence of the recipient.
In case of absence by the recipient, the delivery person will try to reach him by phone. If he is not reachable, the delivery person will give the order back to the store.
TO MODIFY A DELIVERY
For any order modifications (change of billing or delivery address, delivery date, etc.), please contact our Customer Service Department by email or by telephone at least two working days before the selected delivery date.
Our Customer Service Department can be reached by email or by telephone from Monday to Friday from 9:00 a.m. to 1:00 p.m. and from 2:00 p.m. to 5:00 p.m. or by clicking here